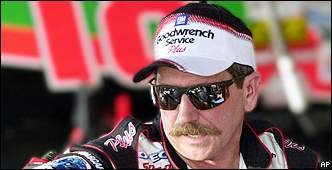 Dale Earnhardt
1951-2001
A Tribute to Dale
It's amazing. All I have to type is "Dale", and you all know who I'm talking about. That very name conjures up images of that sly grin, the grin that said "I know I can beat you; just try me." It conjures up images of that famous black, white, and red #3 Chevrolet tearing thru the field at any given restrictor plate race, or any race for that matter. Some remember the mustache, but I will always hold the name of Dale Earnhardt synonymous with February 18th, 2001. The first Winston Cup race of the new century, speculated to be some of the best racing ever seen, has sent a seven time champion home to his Father in heaven.
Now, I never really was a Dale Earnhardt fan. I argued with person after person about how Jeff Gordon was better than Dale Earnhardt. I was furious with him when he tapped Terry Labonte on the last lap of the 1999 fall race at Bristol. I look back on it now, and think, "Man, that was classic Dale."
Even though I always claimed to strongly dislike Earnhardt's driving, I respected him just the same. When he went from 18th to 1st at Talladega in the fall of 2000, I sat in disbelief, wondering how that was humanly possible. It wasn't humanly possible, but whoever said Dale was human? We now know all to well that he was human, just like all of us.
As I watched the race, like most fans I thought, "That wasn't so bad. It's Dale, he'll be okay." Later on, things started looking worse and worse. A few minutes later, I found that Dale Earnhardt was gone.
I was numb. It felt like a part of me was missing. How could I miss so much a man that I never knew, or had even met? I finally came to the realization that NASCAR is almost like one huge family. NASCAR has brought together people who support the same driver, or even argue about who is the best. And we owe most of that to Dale Earnhardt.
Many people are fans of this sport because they became fans of Dale Earnhardt. It was his drive, determination, perseverance, and, most importantly, his caring attitude that made NASCAR what it is today.
As Dr. Jerry Punch said on RPM tonight, "Most people thought of Earnhardt as a selfish driver on the track. However, in his last race, he did a very unselfish thing. He made himself a 180 mph screen, and blocked so that his team cars, including his son and close friend, could finish first and second."
That's how I will always remember Dale.